Michael Bishop, The Good Life: Unifying the Philosophy and Psychology of Well-Being
---
Michael Bishop, The Good Life: Unifying the Philosophy and Psychology of Well-Being
From Oxford University Press: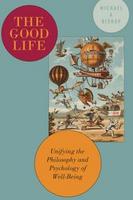 Philosophers defend theories of what well-being is but ignore what psychologists have learned about it, while psychologists learn about well-being but lack a theory of what it is. In The Good Life, Michael Bishop brings together these complementary investigations and proposes a powerful, new theory for understanding well-being. 
The network theory holds that to have well-being is to be "stuck" in a self-perpetuating cycle of positive emotions, attitudes, traits and accomplishments. For someone with well-being, these states -- states such as joy and contentment, optimism and adventurousness, extraversion and perseverance, strong relationships, professional success and good health -- build upon and foster each other. They form a kind of positive causal network (PCN), so that a person high in well-being finds herself in a positive cycle or "groove." A person with a lesser degree of well-being might possess only fragments of such a network -- some positive feelings, attitudes, traits or successes, but not enough to kick start a full-blown, self-perpetuating network.
Although recent years have seen an explosion of psychological research into well-being, this discipline, often called Positive Psychology, has no consensus definition. The network theory provides a new framework for understanding Positive Psychology. When psychologists investigate correlations and causal connections among positive emotions, attitudes, traits, and accomplishments, they are studying the structure of PCNs. And when they identify states that establish, strengthen or extinguish PCNs, they are studying the dynamics of PCNs. Positive Psychology, then, is the study of the structure and dynamics of positive causal networks.
The Good Life represents a new, inclusive approach to the study of well-being, an approach committed to the proposition that discovering the nature of well-being requires the knowledge and skills of both the philosopher in her armchair and the scientist in her lab. The resulting theory provides a powerful, unified foundation for future scientific and philosophical investigations into well-being and the good life.